Salopian
Salopian Brewery was founded as Snowdonia Brewery in 1994 by Brewer Martin Barry at his Pub in North Wales.  In 1995 he relocated  to Shrewsbury and renamed it Salopian (meaning of Shrewsbury). At that time it was the smallest commercial brewery in the country (not attached to a Pub) with a 2 barrel brewlength. 
In 2008 Jake Douglas was recruited as our first salesman, and after a short period he began to influence the production of the brewery as well. A change was made from the traditional  to a more modern hop led style. This transition has proved  very successful, with sales nearly trebling since 2008 and recognition of the brewery's prowess at every level of competition. A new 30 barrel brewery was installed in 2010 to cope with demand and when this was overwhelmed the brewery relocated in 2014 to a purpose built 50 barrel plant.
Latest News: Oracle - Champion beer of the West Midlands. For the second successive year the brewery is extremely proud to have received the Bob Jones Cup for the CAMRA Champion Beer of the West Midlands. Ian Hughes and Jon Chappell from the brewery were on hand to receive the award and six others at the recent awards ceremony in Aston, Birmingham.
Regular ales:
Shropshire Gold - Golden, with a floral aroma and a full hoppy flavour that is balanced by a crisp dry maltiness and a rich finish.
Oracle - Oracle is a crisp, sparklingly sunflower gold ale with a striking hop profile. Dry and refreshing with a long citrus aromatic finish.
Darwin's Origin -A specially brewed ale for 2009 to celebrate the bicentennial of Charles Darwin's birth in Shrewsbury. A copper coloured beer that evolves with a pronounced hop character which leads to a refined malt finis
Lemon Dream - A shimmering golden ale that is brewed using organic lemons which adds beautifully subtle zesty aromas and a citrus filled fruity finish.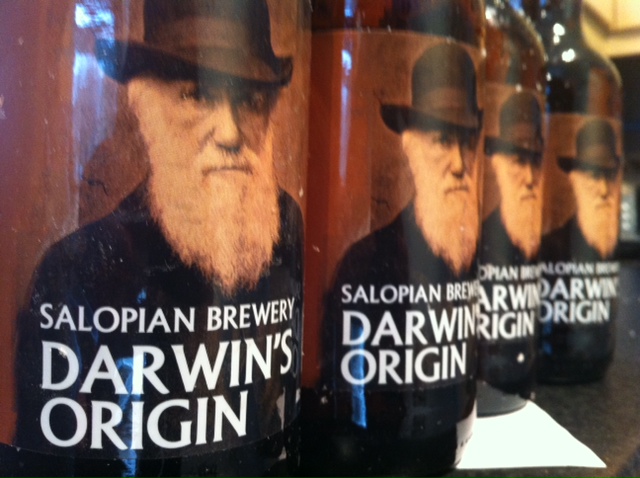 This entry was posted on January 22, 2016
---